Discussion Starter
·
#1
·
Looks like we lost the original topic when the site burped!
Operation: Whitetail Count is up and running.
Thanks to all who have submitted big game sightings over the winter. Keep them coming.
We hope to provide an update or a progress report at the NSACH Annual general Meeting in April.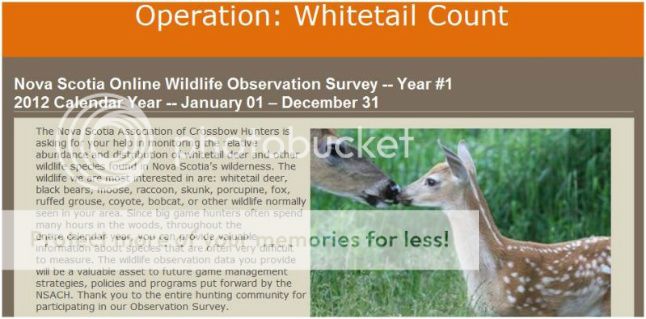 For those who would like to participate, simply go to the link provided below and get started today. Every critter counts!
It really is easy.
If you spot big game, or any harvestable wildlife, for that matter, head over to the online survey, fill out the information requested and submit your data.
We will handle it from there.
http://www.nsach.ca/help/2012survey.html
We also have a downloadable scorecard available here:
http://www.nsach.ca/Survey%20Data%20Tally%20Sheet.pdf
Simply print the scorecard and carry it with you to record your observations. Then, scan and email the results to us, or contact NSACH for a fax number to fax it along.
If you are out scouting your favorite spots and do not see any big game animals, let us know. Just fill in the comments section of the survey.
Thanks!